Our Candidate, Noel Ovenden's election flyer.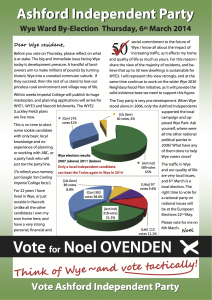 Press Coverage of the Wye By-Election
Canvassing of residents is revealing strong support for Noel.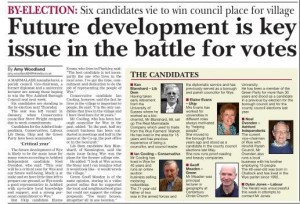 A Supporter Comments
On hearing that Noel Ovenden will be the Ashford Independent candidate, a local resident put the following comment on his website Sustainability in Wye (www.jasperbouverie.com)
'Following Steve Wright's resignation as borough councillor, there is to be a by-election in Wye with Hinxhill on Thursday March 6.
Usually I keep the colour of my vote close to my chest but I'm not going to on this occasion.
I, like everyone on the parish council, feels the need for someone to represent the parish who is up-to-date with current negotiations with Imperial College over Wye3, and who also has an awareness of the many other thorny issues in the parish: the Neighbourhood Plan; the developments at Naccolt, Willesborough and Conningbrook; the construction of the MUGA; the complicated interaction between the Parish Council and the charitable organisations in the village; not forgetting traffic, level-crossing, network rail.
We need someone who is not just aware of these issues but also has the necessary skills to seek support and resolution at borough level.
I have no doubt that Noel Ovenden who is standing for the Ashford Independent Party will be extremely good at this. He has scarcely missed a parish council meeting, has done much to put the pc's affairs in order over the past 14 months, and has been a good deputy chair since the last AGM. He is methodical, financially astute, and has a good grasp of what makes people tick. I have also very much enjoyed working with him.
Noel is standing for the Ashford Independent Party – a party set up by former Tory Peter Davison which believes that there is no place for national party politics in local elections. I couldn't agree more.
With members free to speak their minds, it is no surprise that the 'party' is united against over-development. Many of their councillors' constituencies are after all the targets of developers.
Surely, given the current situation in Wye, we could do with their support?
I have yet to hear of others who are standing for election, and will publish details when I hear of them. However I'm 99% certain that my vote will go to Noel.